Healthcare IT
Medical Devices Market Size To Touch USD 850 Billion By 2030
The global medical devices market size was estimated at USD 577.26 billion in 2022 and is projected to hit around USD 850 billion by 2030, growing at a CAGR of 5.5% from 2022 to 2030.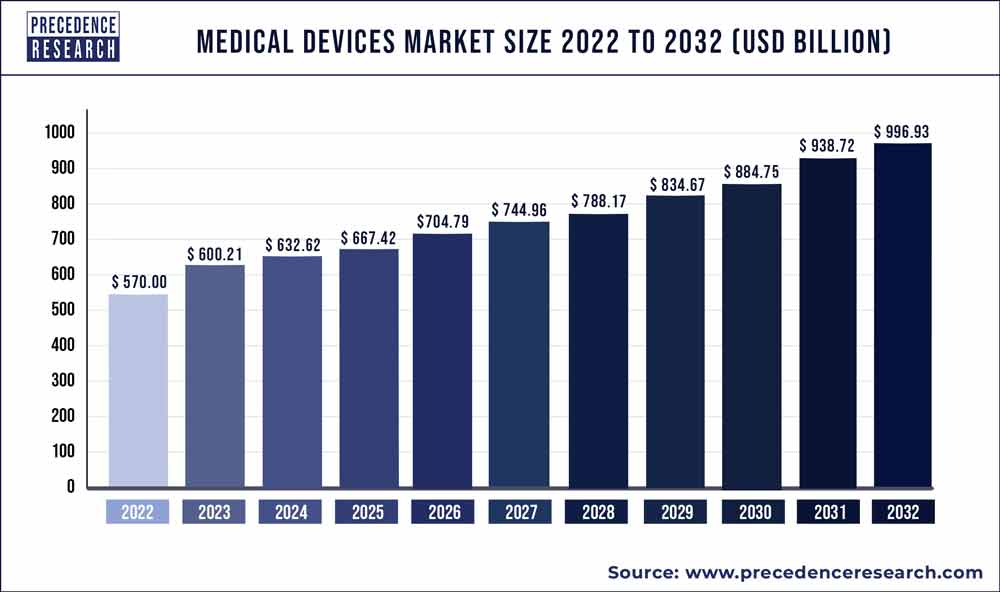 Smart medical gadgets are wireless electronic tools designed to collect and transmit real-time data in order to monitor patients' health. Some of the frequently used smart medical equipment are insulin pumps, heart rate monitors, pulse oximeters, portable oxygen concentrators, and blood pressure monitors. These devices are frequently used to monitor, analyze, and communicate crucial patient data and are typically operated on a wireless network like Wi-Fi, Bluetooth, and other technologies. Smart medical equipment offers a high degree of mobility and the capacity to remotely monitor patient status.
Medical Devices Market Growth
The creation of new and advanced medical devices, together with easy regulatory approval of those items, is likely to drive market growth for medical devices in the following years. Medical technology businesses are investing more money in R&D activity. One of the main reasons contributing to the market's optimistic outlook is the significant global growth of the healthcare sector. The use of these devices in various healthcare settings has been made easier by the rising frequency of chronic medical conditions such as asthma, diabetes, blood pressure, and chronic obstructive pulmonary disease (COPD). Additionally, the widespread use of smart wearable medical devices brought on by the general public's growing health consciousness is promoting market expansion.
Report Scope Medical Devices Market
Report Coverage
Details
Market Size In 2022
USD 577.26 Billion
Market Size By 2030
USD 850 Billion
Growth Rate From 2022 to 2030
CAGR of 5.5%
Base Year
2021
Forecast Period
2022 to 2030
Segments Covered
·        By Product

By Therapeutic Application
By End User

Regions Covered

North America
Europe
Asia Pacific
Latin America
Middle East & Africa
Medical Devices Market Report Highlight
Type Insight: Devices known as in vitro diagnostics (IVD) are employed in the diagnosis of diseases or illnesses that involve a review of current health status with the aim of reducing, curing, treating, or preventing disease. These tools are mostly utilized for collecting, preparing, and inspecting the specimen sample taken from the patient's body. Therefore, the need for accurate and effective testing kits for diseases including malaria, HIV/AIDS, diabetes, and cancer is growing, as is the prevalence of the chronic disease. For instance, the World Health Organization (WHO) reported that 47% of newly discovered HIV cases were found globally in 2017.
End-user Insight: Hospitals and ambulatory surgical centers topped the global market for medical equipment in 2021, according to the end users. The significant expansion of the market is primarily driven by rising healthcare costs, expanding healthcare infrastructure, a strong focus on better patient outcomes, and alluring reimbursement schemes. The majority of developing nations worldwide do not have an average of one district hospital per one lakh population, according to a WHO assessment of healthcare infrastructure.
Regional Analysis
In 2021, North America accounted for the biggest revenue share, and it is expected that this supremacy will persist into the years after that. The region's rapid growth is largely attributable to the region's advanced healthcare system and growing interest in leading healthy lives.
Aside from that, the Asia Pacific region saw the fastest growth throughout the predicted period due to an aging population, increased per capita income, and an increase in public health awareness. The market for medical devices is expected to have considerable growth throughout the analysis period as a result of rising investments in the region's healthcare infrastructure.
Also Read: Medical Billing Outsourcing Market Size USD 35.7 Bn By 2030
Medical Devices Market Dynamics

Drivers
The unexpected outbreak of coronavirus disease (COVID-19) has increased the demand for products in home care settings, which is helping the market expand. These products are used for disease management, monitoring, providing feedback, and proposing appropriate treatments. The market is expected to rise as a result of a number of additional factors, such as increased consumer spending power, an increase in the elderly population, and the implementation of numerous government initiatives aimed at raising knowledge of disease prevention.
Restraints
Since data transfer from distant devices to doctors requires an internet connection, data security risks could impede the market expansion for medical devices. Consequently, this raises the risk of data security. As linked devices become more popular, the likelihood of data breaches or hackers also rises.
Recent Development

January 2022- For the treatment of chronic pain linked to diabetes, Medtronic's Intellis rechargeable neurostimulator and Vanta recharge-free neurostimulator have been given U.S. FDA approval.
November 2021- The NAEOTOM Alpha, the first CT scanner using photon counting technology and approved for clinical use in the United States and Europe, was introduced by Siemens Healthineers.
Medical Devices Market Key Players:
DePuy Synthes
Medtronics Plc
Fesenius Medical Care
GE Healthcare
Philips Healthcare
Ethicon LLC
Siemens Healthineers
Stryker
Cardinal Health
Baxter International Inc.
BD
Market Segmentation
By Product
Monitoring Devices
Cardiac Monitoring Devices
Neuromonitoring Devices
Respiratory Monitoring Device
Multi-Parameter Monitoring Devices
Hemodynamic Monitoring Devices
Fetal and Neonatal Monitoring Devices
Temperature Monitoring Devices
Weight Monitoring Devices
Diagnostic Devices
Surgical ENT Devices.
Endoscopes
Imaging Devices
Diagnostic Molecular Devices
Drug Delivery Devices
Surgical Devices
Bio Implants and Stimulation Devices
Treatment Equipment
Infusion Pumps
Medical lasers and LASIK surgical machines
Others
By Therapeutic Application
Gastrointestinal surgery
General Surgery
Diagnostic Imaging
Respiratory
Orthopedics
Cardiovascular
Dental
Neurology
Ophthalmology
Ear-Nose-Throat (ENT)
Nephrology and Urology
Others
By End User
Hospitals & Clinics
Diagnostic Centers
Research laboratory
Pharmaceutical companies
Regional Segmentation
North America (U.S., Canada, Mexico)
Europe (Germany, France, U.K., Italy, Spain, Rest of Europe)
Asia-Pacific (China, Japan, India, Southeast Asia and Rest of APAC)
Latin America (Brazil and Rest of Latin America)
Middle East and Africa (GCC, North Africa, South Africa, Rest of MEA)
Thanks for reading you can also get individual chapter-wise sections or region-wise report versions such as North America, Europe, or the Asia Pacific.
Immediate Delivery Available | Buy This Premium Research Report@ https://www.precedenceresearch.com/checkout/1129
You can place an order or ask any questions, please feel free to contact at sales@precedenceresearch.com | +1 9197 992 333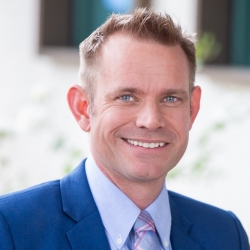 Latest posts by Palmiro Bianchi
(see all)