Healthcare IT
Portable Medical Devices Market Sales to Hit USD 85 Bn By 2027
The global portable medical devices market sales was estimated at USD 47.50 billion in 2022 and is projected to hit USD 85 billion by 2027 with a remarkable CAGR of 11.35% between 2022 and 2027.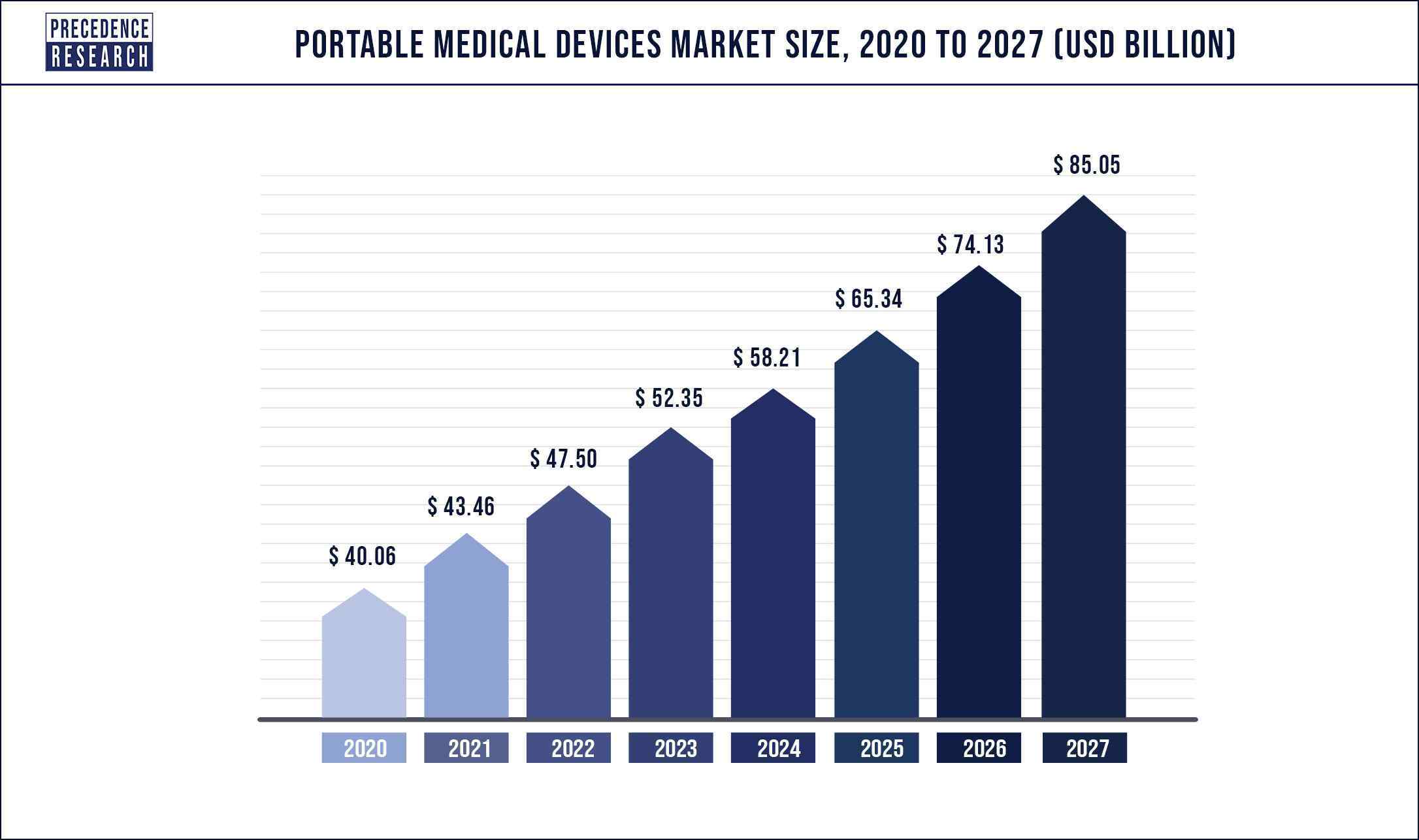 Portable medical devices are crucial in monitoring and managing healthcare for many patients. A wide variety of these devices are already on the market, while various next-generation devices are under development. It helps modern healthcare to realize cost-efficient remote outpatient care. It monitors and tracks a patient's physiological conditions continuously. The devices are portable, light in weight, and compact due to the advancements in microprocessor technology. It allows medical teams to provide high-quality care immediately; therefore, the market for these devices proliferates.
Portable Medical Devices Market Growth Factors
Factors such as the increasing prevalence of lifestyle diseases, the rising geriatric population, and constant technological innovations significantly contribute to market growth. Furthermore, growing health consciousness among individuals and the increasing trend of miniaturization of technology favour market growth. In line with this, benefits such as ease of use and cost-effectiveness offered by these devices create a positive outlook for the market.
Moreover, significant growth in the healthcare industry and rapid technological advancements positively influence market growth. Factors such as the rising incidence of chronic disorders and the growing popularity of homecare treatments are propelling the market. In addition, efforts undertaken by the government of various countries for early detection and diagnosis of diseases are strengthening the market growth. Besides, the rapid adoption of technologically advanced smart devices catalyzes market growth.
Download a Free Sample Copy of this Report@ https://www.precedenceresearch.com/sample/1068
Portable Medical Devices Market Report Scope
| | |
| --- | --- |
| Report Highlights | Details |
| Market Size | USD 85.05 Billion by 2027 |
| Growth Rate | CAGR of 11.35% From 2021 to 2027 |
| Base Year | 2020 |
| Historic Data | 2017 to 2020 |
| Forecast Period | 2020 to 2027 |
| Segments Covered | Product, Application |
| Regional Scope | Asia Pacific, North America, Europe, Latin America, Middle East and Africa |
Portable Medical Devices Market Report Highlights
By the product, monitoring devices are leading the market. These devices have captured the market due to technological advancements, increased hospital demand, and product approvals. These devices offer advantages, such as compactness, ease to use, and mobility, further driving the market growth.
On the basis of the application, gynaecology has witnessed significant growth in the market. Demand for portable medical devices in gynaecology is expected to rise more in the coming years. Rapid technological advancements and the widespread adoption of portable monitoring and imaging devices are growth-inducing factors. For instance, Signostics produced a handheld ultrasound system named Signos RT for monitoring foetuses. This device has proved to be very beneficial in the field of gynaecology. Such innovations are strengthening the market growth in gynaecology.
Regional Snapshots
North America is the leading region with the highest revenue share in 2022. The rapid adoption of portable medical devices for healthcare management, increasing incidences of chronic diseases, and the rising geriatric population significantly contribute to the region's market growth.
As per the reports of the Centres for Disease Control and Prevention (CDC), around 30 million people have diabetes in North America. More people are demanding glucose monitoring devices and insulin pumps. This is expected to grow even further, thus driving the demand for portable medical devices.
On the other hand, the Asia Pacific market is expected to contribute to market growth in the coming years significantly. Heavy investments by the government of various countries in healthcare infrastructure and rising demand for smart wearable devices are favouring market growth across the region. For instance, as per an article published in Forbes, more people prefer to wear smart wearables in the Asia Pacific due to the changing lifestyles and rising popularity of such devices.
Portable Medical Devices Market Dynamics
Driver: Regulatory Approval of Portable Medical Devices
The regulatory approval for portable medical devices is positively influencing market growth. FDA gave its clearance to the usage of portable medical devices as they have proven to be cost-effective and safe. Manufacturers of these devices seek FDA approval before their distribution. Governments of various countries are undertaking efforts to increase the deployment of portable medical devices.
The administration of Makati City is making efforts to buy portable ultrasound machines. Furthermore, the increasing number of product approvals by the government and the concerned authorities and the rising number of product launches are driving market growth.
Restraint: Highly Expensive and High Maintenance Cost
Portable medical devices are mainly dependent on wireless technology. These devices can easily get affected by system-related breakdowns or discrepancies. It can face significant issues such as memory problems, inaccurate results, and fluctuations in data. These issues are the major restraints of the portable medical devices market. Moreover, these devices are costly. Not everyone can find it easy to afford it. It also involves enormous maintenance costs. Once it gets damaged, it will be too expensive to repair it. High maintenance costs and technical failures are other factors hampering the market growth.
Also Read: Endoscopes Market Size is Booming 2022-2030
Opportunity: Rapid Technological Advancements
Rapid technological advancements are another factor offering lucrative opportunities for market growth. Multiple manufacturers are investing in advanced technologies to develop sophisticated portable medical devices. Increasing preference for portable medical devices has positively influenced the demand for oxygen concentrators, insulin pumps, and ultrasound machines.
Moreover, the market players are strongly focusing on developing compact, wireless, and user-friendly products. Technological advancements such as wireless Bluetooth-enabled portable medical devices and innovations in sensors, embedded systems, and electronics propel market growth.
Challenge: Technology Related to Hardware, Operating Systems, and Device Connectivity
Portable medical devices have significantly transformed how people monitor and care for their well-being. It has offered various benefits to the people. However, portable medical devices still face some challenges related to hardware, operating system, and connectivity. Once the problem and use case is analyzed, the hardware of the portable medical devices has to be finalized.
Complex portable medical devices need a graphical user interface. Powerful processors like Qualcomm Snapdragon are required if a manufacturer wants to produce a portable medical device with wireless connectivity. Before, a portable medical device was either intermittent wired or wireless. Nowadays, it has become possible to provide connectivity directly via the internet. These challenges must be faced to develop a high-quality portable medical device.
Key Developments in the Marketplace:
In June 2020, Koninklijke Philips N.V., a frontiersperson in health technology, declared the launching of a new product, Lumify, with Reacts handheld tele-ultrasound solution for its saleable availability in Japan.
In June 2020, OMRON Corporation, Japan, declared the launching of a new product, the FH Series Vision System". It is the industry's first detection AI technology that recognizes faults without learning samples.
Portable Medical Devices Market Key Players:
Samsung Group
General Electric Company
Koninklijke Philips N.V
VYAIRE
Nox Medical
OMRON Corporation
Medtronic Plc
Market Segmentation
By Product
Therapeutics

Nebulizer
Insulin Pump
Image-guided Therapy Systems
Oxygen Concentrator

Smart Wearable Medical Devices
Diagnostic Imaging

X-ray
CT
Endoscope
Ultrasound

Monitoring Devices
Neuromonitoring

Electromyography (EMG) Machines
Electroencephalography (EEG) Machines
Intracranial pressure (ICP) Monitors
Cerebral Oximeters
Others

Cardiac Monitoring

Resting ECG System
Event Monitoring Systems
Holter Monitors
Stress ECG Monitors
ECG Management Systems

Respiratory Monitoring

Spirometers
Capnographs
Peak Flow Meters

Neonatal Monitoring
Fetal Monitoring
Vital Sign Monitors
Hemodynamic Monitoring Systems
By Application
Cardiology
Orthopedics
Gynecology
Urology
Gastrointestinal
Neurology
Others
Regional Segmentation
North America (U.S., Canada, Mexico)
Europe (Germany, France, U.K., Italy, Spain, Rest of Europe)
Asia-Pacific (China, Japan, India, Southeast Asia and Rest of APAC)
Latin America (Brazil and Rest of Latin America)
Middle East and Africa (GCC, North Africa, South Africa, Rest of MEA)
Thanks for reading you can also get individual chapter-wise sections or region-wise report versions such as North America, Europe, or the Asia Pacific.
You can place an order or ask any questions, please feel free to contact at [email protected] | +1 9197 992 333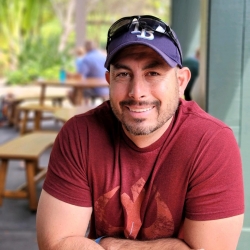 Latest posts by Sabestian Miller
(see all)