The global endoscopes market size is expected to be worth around USD 25.25 billion by 2030, according to a new report by Precedence Research.
The global endoscopes market size accounted for USD 12.99 billion in 2022 and is anticipated to grow at a CAGR of 8.62% during the forecast period 2022 to 2030.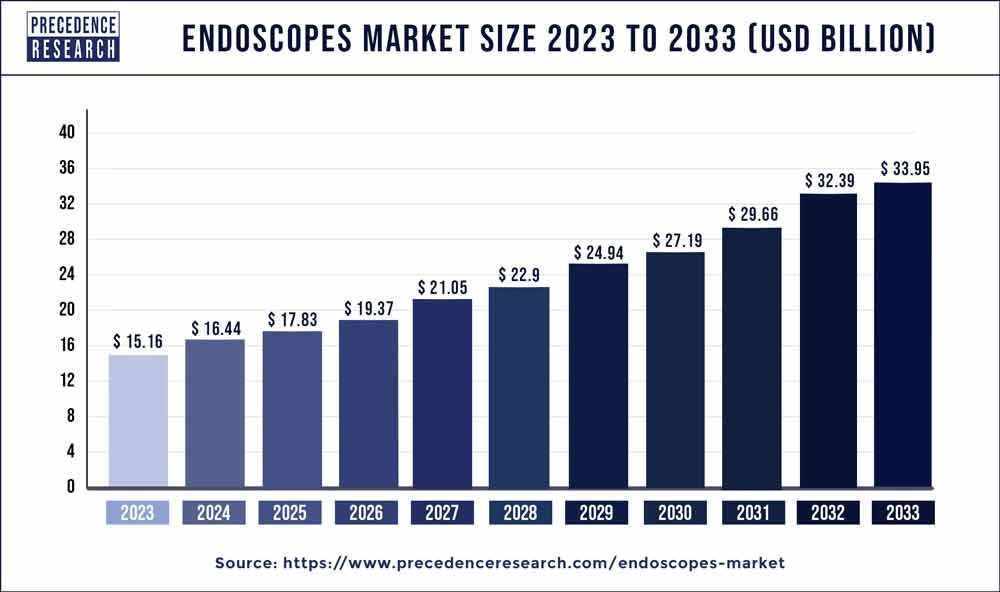 In 2021, it was projected that the worldwide endoscopes market will reach a value of USD 11.99 billion. Healthcare's future is still being shaped by medical technology advancement. Recent years have seen continuous improvements in tools like fiberscopes and video endoscopes. In order to reduce the danger of infection and inflammation and, as a result, increase the likelihood that treatments will be successful, nanotechnology and other cutting-edge technologies are also being used.
A bright future is emerging for the flexible endoscopes market globally due to rapid technological advancement. Several key reasons are expected to significantly contribute to the market growth over the coming years, including the rise in the prevalence of chronic diseases and the rising understanding of how minimally invasive surgical methods can help diagnose diseases early.
Get the Sample Copy Of This Report@ https://www.precedenceresearch.com/sample/1101
Endoscopes Market Growth
Unlike conventional bariatric surgery, which uses a flexible endoscope, it is carried out through the patients' mouths. As a result, it is also projected that over time, there would be a rise in demand for minimally invasive endoscopic bariatric operations. The international endoscope market is now growing as a result of the rise in the elderly population, who are at an increased risk of developing orthopedic, gastrointestinal, and ophthalmic disorders as well as various cancers.
The percentage of the global population that is 60 years or older will double from about 11% to 22% between 2000 and 2050, according to statistics provided by the World Health Organization. The majority of patients who undergo bariatric operations, colonoscopies, knee-hip implants, and gastrointestinal endoscopies are in this older demographic.
Endoscopes Market Report Scope
| | |
| --- | --- |
| Report Highlights | Details |
| Market Size | USD 25.25 Billion by 2030 |
| Growth Rate | CAGR of 8.62% from 2022 to 2030 |
| Largest Market | North America |
| Fastest Growing Market | Asia Pacific |
| Base Year | 2021 |
| Forecast Period | 2022 to 2030 |
| Segments Covered | Product, Application, End User, Region |
Endoscopes Market Report Highlight
Product Insight: Flexible endoscopes, capsule endoscopes, robot-assisted endoscopes, rigid endoscopes, disposable endoscopes, and other sorts of product segments are among those evaluated in this research. Since rigid endoscopes are less effective, safer, and more ergonomically designed, flexible endoscopes have had a 47% increase in market revenue since 2021.
Application Insight: The market was dominated by the GI endoscopy application segment in 2021, which accounted for more than 51.5% of worldwide revenue. The need for GI endoscopy is increasing globally due to the burden of GI disorders increasing and the growing elderly population. The second most common cause of cancer-related fatalities worldwide is gastrointestinal malignancies.
End-User Insight: With a revenue share of more than 48% in 2021, the hospital end-user segment led the market. It is attributable to patients' growing product preferences for the management of chronic diseases. Ambulatory surgical centers or clinics, hospitals, and other institutions are a few examples of the various end-users of endoscope goods. The other part consists of office endoscopy services, diagnostic facilities, and mobile endoscopic facilities.
Also Read: eClinical Solutions Market Holds US$ 23 Bn Potential
Regional Analysis
North America held the largest market share in 2021, contributing more than 41.5% of global sales. Due to the rising popularity of elective endoscopic treatments, increased healthcare spending, and a large elderly population, it is anticipated that the regional market will continue to have a leading position over the projected period. However, over the forecast period, Asia Pacific is anticipated to experience the quickest rate of growth. This rise is attributable to the availability of a sizable patient population pool suffering from functional gastrointestinal diseases.
Endoscopes Market Dynamics
Market Drivers
According to the Centers for Disease Control and Prevention, 5.9% of adults in 2018 had ulcers, making gastrointestinal (GI) problems one of the most disabling medical ailments. The growing prevalence of GI diseases would present profitable prospects for flexible endoscopes market expansion over the forecast period because endoscopy is regarded as a crucial diagnostic tool for digestive problems.
Market Restraints
More than 46.5% of the global market's revenue was generated by the flexible product category in 2021. Additionally, flexible endoscopes are utilized in a variety of surgical procedures, including bronchoscopy, otoscopy, mediastinoscopy, laryngoscopy, arthroscopy, urology endoscopy, and obstetrics/gynecological endoscopy. As a result, their adoption rises, spurring the segment's expansion. Due to legislative changes that may limit market access and have an adverse effect on enterprises' bottom lines, these issues may limit the expansion of the worldwide market.
Market Opportunities
The demand for endoscopes for early diagnosis and treatment is also being driven by the increasing burden of cancer on the world's population. For instance, according to the Globocan 2020 report, there will likely be 19.3 million new cases of cancer and nearly 10 million cancer-related deaths in 2020. Therefore, it is projected that rising demand for endoscopic biopsy to identify cancer will propel market expansion during the upcoming years.
Recent Development of Endoscopes Market
To expand its presence in the market for surgical endoscopy, Olympus Corp. bought Quest Photonic Devices in January 2021.
Endoscopes Market Key Players
Olympus Corporation
Stryker Corporation
Ethicon Endo-Surgery, Inc
Covidien Plc
Aesculap, IncBoston Scientific
Arthrex, Inc.
Smiths Group,
Karl Storz
Richard Wolf GmbH
Hoya Corporation
ConMed
Fujifilm Holdings Corporation
Market Segmentation
By Product
Flexible Endoscopes

Bronchoscopes
Laryngoscopes
Sigmoidoscopes
Upper Gastrointestinal Endoscopes
Duodenoscopes
Colonoscopes
Pharyngoscopes
Nasopharyngoscopes
Other

Capsule Endoscopes
Robot Assisted Endoscopes
Rigid Endoscopes

Urology Endoscopes
Laparoscopes
Arthroscopes
Cystoscopes
Neuroendoscopes
Other

Disposable Endoscopes
By Application
Arthroscopy
Urology Endoscopy
Laparoscopy
Gastrointestinal (GI) Endoscopy
Bronchoscopy
Mediastinoscopy
Gynecology Endoscopy
Otoscopy
Laryngoscopy
Other Applications
By End-Use
Ambulatory Surgery Centers
Hospitals
Other
Regional Segmentation
North America (U.S., Canada, Mexico)
Europe (Germany, France, U.K., Italy, Spain, Rest of Europe)
Asia-Pacific (China, Japan, India, Southeast Asia and Rest of APAC)
Latin America (Brazil and Rest of Latin America)
Middle East and Africa (GCC, North Africa, South Africa, Rest of MEA)
Thanks for reading you can also get individual chapter-wise sections or region-wise report versions such as North America, Europe, or the Asia Pacific.
You can place an order or ask any questions, please feel free to contact at [email protected] | +1 9197 992 333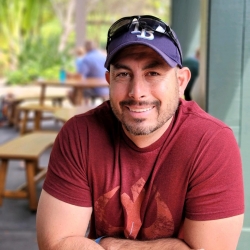 Latest posts by Sabestian Miller
(see all)