Healthcare IT
Hospital Services Market Size Will Touch USD 19.61 TRN By 2027
Hospital Services Market Size, Trends Analysis, Segment Forecasts, Regional Outlook 2022-2027
The global hospital services market size accounted for USD 11.36 trillion in 2022 and is projected to cross around USD 19.61 trillion by 2027 with a remarkable CAGR of 8.7% between 2022 and 2027.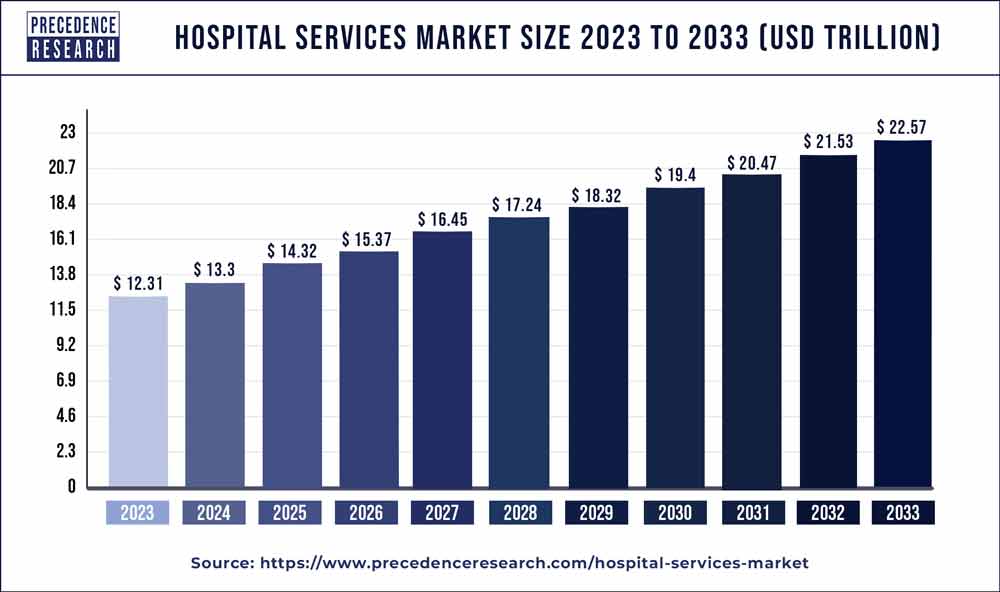 A hospital is a medical facility that provides professional medical care and supplies to patients. The General Hospital is the most famous type, which usually specializes in handling urgent health issues and medical emergencies. Hospital Services are the medical services provided by the Hospital and all those operational activities that facilitate those medical services. Hospital Services can be impacted or changed by the Hospital's key providers, with the vision of making the Hospital a one-stop solution for all medical problems.
Hospitals have medical and surgical departments which offer different services. These services cover everything from primary treatment to training and research for medical school centres and services provided by industry-owned institutions. Some hospital services include emergency room services, short-term hospitalization, X-ray services, general and speciality surgical services, blood testing, and laboratory services. Other health maintenance organizations offer pediatric speciality care, prescription, surgical, rehabilitation, physical therapy, mental health care, family support services, nutritional counselling, genetic testing and counselling, social work services, etc.
Hospital Services Market Growth Factors
Factors such as increasing awareness about healthcare, affordable healthcare services, and rising investment in healthcare infrastructure significantly contribute to hospital services' market growth. Medical expenses have increased in the past few years. Advanced diagnostic services have created growth potential for the early detection of diseases like cancer.
Hospitals indulge themselves in innovation as they earn profits. Furthermore, due to the growing medical expenses, most countries have implemented national medical insurance plans, positively influencing the demand for hospital services.
Moreover, significant healthcare industry growth catalyzes the hospital services market growth. Factors such as inflating disposable income, increasing prevalence of chronic diseases, and rising number of healthcare providers are other growth-inducing factors. Besides, multiple players are investing heavily to promote their services in various healthcare organizations. The rising number of cancer patients and the growing geriatric population are propelling the global demand for hospital services.
Hospital Services Market Report Scope
| | |
| --- | --- |
| Report Highlights | Details |
| Market Size | USD 19.61 Trillion by 2030 |
| Growth Rate | CAGR of 8.7% from 2022 to 2030 |
| Largest Market | North America |
| Fastest Growing Market | Asia Pacific |
| Base Year | 2021 |
| Forecast Period | 2022 to 2030 |
| Segments Covered | Service Class, Hospital Type, Service Area, Region |
Hospital Services Market Report Highlights
By hospital type, public Hospitals accounted for the largest revenue share. However, state-owned hospitals are expected to contribute significantly to the market growth in the coming years. Private hospitals are expected to lead to these segments in the coming years due to their rising investments and advanced hospital services. Private hospitals have more patient beds and more specialized departments. Moreover, the availability of super speciality processes in private hospitals is projected to positively impact the number of patients visiting private hospitals. Hence, private hospitals are expected to offer numerous opportunities for market growth.
By service type, inpatient services accounted for the largest market share, while outpatient services contributed to the remaining share. The rising inpatient services costs and restricted insurance plans are anticipated to result in individuals choosing outpatient services in the coming years. This growth was seen because of treatments which require an extended hospital stay. On the other hand, the capability of the wound to heal quickly and the quick recovery of the patients from surgeries has dramatically reduced the duration of patients' stay in the Hospital.
By service area, cardiovascular is dominating the market with the most significant shares. This is followed by the diagnostics & imaging segment. Cancer services are expected to be the second-fastest expanding segment because of the growing number of cancer cases, especially in women. On the other hand, neurorehabilitation & psychiatry is anticipated to witness the highest growth in the coming years due to increasing awareness among patients regarding mental health.
Regional Snapshots
North America has dominated the hospital services market by earning the most considerable revenue in 2022. The increasing incidence of diseases and significant investment in healthcare plans in North America is strengthening the market growth. Many people have cancer in this region, increasing the medical costs involved in its treatment.
On the other hand, the Asia Pacific hospital services market is expected to witness the fastest growth in the coming years. The need for quality medical services and the developed healthcare industry favour market growth. Governments of various countries are investing heavily in developing healthcare infrastructure, thus creating a positive outlook across the region.
Also Read: Medical Waste Management Market 2030 Global Survey Data
Hospital Services Market Dynamics
Market Driver: Significant growth in hospitals across the world
Hospitals are an essential part of the healthcare sector and a significant revenue generator. Many hospitals are opening up across the world. This is fuelling the demand for research and development and innovation. As a result, various corporations are investing heavily and strategizing to promote their hospital services. Hospital services mainly cover the costs of healthcare providers. There are many medical conditions treated in hospitals, further influencing the demand for hospital services.
Factors such as the increasing prevalence of chronic illness and rising awareness about treating these conditions supplement market growth. There are many medical conditions whose treatment comes under the hospital services, such as cancer care, cardiovascular, neurorehabilitation & psychiatry services, pathology lab diagnostics & imaging, obstetrics & gynaecology, and others. Among these, cancer and cardiovascular diseases are highly prevalent. The growing number of cancer cases and the expanding Geriatric population catalyze market growth worldwide.
Nowadays, cosmetic, dermatologist, and dentistry services are in high demand across the globe. The increasing demand for skin procedures and dentistry services is expected to generate a large share of revenue in the coming years.
Market Restraint: Concerns over the gap between the demand and supply of hospital services
During the covid times, there was an acute shortage of hospital services globally. A perfect supply and demand strategy is needed to fill this gap and provide hospital services to all. There is a rising need to use the leftover resources effectively, fill this gap, and expand the facilities. The supply chain management should be enhanced to ensure enough resources for the hospitals to perform their duty. Managing shortages and supply restraints requires a perfect strategy to target and resolve demand and supply problems.
The pandemic generated a massive demand for hospital services worldwide. It is essential to manage the patients. Flow management is required to ensure that each patient receives services. For this, two things could be done, either reduce the time of the stay of patients or forecast short period demand. For instance, ICU care research by Diwas Singh KC and Christian Terwiesch found that as ICUs reached full accommodation utilization, physicians answered by shortening lengths of stay for patients.
Managing demand can be done by effectively using and managing the supply of resources needed to treat patients. Dealing with shortages means identifying the root cause and making ways how to deal with it.
Market Opportunity: Rising investment in healthcare infrastructure and professionals
Governments across the nation are changing their priorities towards the healthcare sector, paving the way for rising investments towards healthcare infrastructure development and professionals. This is a great investment opportunity for both public and private players. The covid-19 pandemic has proved to be a testing period for all sectors of the economy, including healthcare. The healthcare sector was at the pinpoint of a global crisis.
According to the latest data by National Health Profile, there are only 7,13,986 government hospital beds for a population of approximately 137 crore, which amounts to 0.5 beds per 1,000 people. Even if beds from private, general, and specialized hospitals and rehabilitation centres are considered, the number goes up to 0.7 beds per 1,000 people.
The healthcare sector is facing a crisis regarding healthcare infrastructure, especially in developing economies. The healthcare sector is on the list of the top employment opportunities creator. Factors such as the increasing prevalence of lifestyle diseases, affordability of hospital services, and rising health insurance plans benefit the market growth. The growing investments in emerging trends in the healthcare industry, such as wearable devices, telemedicine, robotic surgeries, and artificial intelligence, are strengthening the market growth and offering lucrative opportunities to the market players.
Market Challenge: Rising medical costs
Increasing medical costs pose a new challenge to the healthcare industry globally. For instance, medical cost has increased by 6% in the USA in 2022. These expenses contribute to inflation. With the pandemic ending, the costs of these hospital services are again rising as everything is back to normal. There is a growing number of patients in hospitals, but now hospitals also have to pay more for supplies due to inflation. Medical care contributes the largest to the revenue in any country.
For instance, in April 2022, American Hospital Association published a report that says there has been significant growth in various input costs for hospitals and healthcare services, including charges for the workforce, drugs, medical supplies and equipment, and the impact of economy-wide inflation.
The increase in medical costs is adversely affecting the demand for hospital services. Fighting medical cost pressure is a real challenge. The cost is rising yearly, and governments are hoping to lower annual increases as the healthcare sector continues to grow.
Key Developments in the Marketplace:
In 2020, the Quebec government and the Canadian Medical Association announced the expansion of telehealth services and digital patient-oriented healthcare services worldwide.
In 2022, the American College of Surgeons Committee on Trauma re-verified the University of Alabama at Birmingham Hospital as a Level I Trauma Center. It is the only Level I adult trauma centre in Alabama with ACS verification is UAB Hospital.
In July 2022, according to U.S. News & World Report's rankings of the nation's finest hospitals for 2022–203, Cleveland Clinic is the finest heart hospital in the country.
Hospital Services Market Key Players
Mayo clinic
HCA Healthcare
Cleveland clinic
Spire Healthcare Group plc
Ramsay Health Care
Ascension Health
Community Health Systems, Inc.
Tenet Healthcare
Fortis Healthcare
Market Segmentation
By Hospital Type
State-owned Hospital
Private Hospital
Public/ Community Hospital
By Service Type
Outpatient Services
Inpatient Service
By Service Areas
Cardiovascular
Acute Care
Cancer Care
Diagnostics, and Imaging
Neurorehabilitation & Psychiatry Services
Gynecology
Others
Regional Segmentation
North America (U.S., Canada, Mexico)
Europe (Germany, France, U.K., Italy, Spain, Rest of Europe)
Asia-Pacific (China, Japan, India, Southeast Asia and Rest of APAC)
Latin America (Brazil and Rest of Latin America)
Middle East and Africa (GCC, North Africa, South Africa, Rest of MEA)
Thanks for reading you can also get individual chapter-wise sections or region-wise report versions such as North America, Europe, or the Asia Pacific.
Immediate Delivery Available | Buy This Premium Research Report@ https://www.precedenceresearch.com/checkout/1082
You can place an order or ask any questions, please feel free to contact at sales@precedenceresearch.com | +1 9197 992 333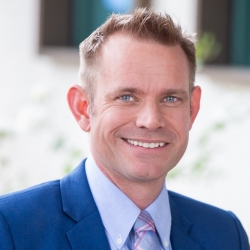 Latest posts by Palmiro Bianchi
(see all)